Back to all posts
Posted on
Family and Community Resources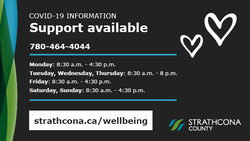 EIPS Wellness Classrooms
To support the well-being of our children and youth, there are two wellness classrooms available to students within the EIPS community. One classroom is specifically for youth in grades 7 to 9 and the other classroom for children in grades 4 to 6. The classrooms provide fun and engaging opportunities that support mental health and well-being during difficult times and do not require additional support from parents or caregivers.
The codes to access the two wellness Google Classrooms are:
Kids Zone for Wellness (grades 4 – 6): udw52m7
Youth Zone for Wellness (grades 7 – 9): ie6emuh
Mental Health Activity Handout
Provincial resources available to families:
LearnAlberta.ca: more than 4,000 digital resources aligned with Alberta's K-12 curriculum.