Indigenous Peoples
National Indigenous Peoples Day a Success
Rainy weather did not dampen spirits for our National Indigenous Peoples' Day celebration at Fultonvale School.  Some events were held inside to avoid the mud and puddles, but students had fun trying some new and challenging games.  The Bannock Bakery run by Mrs. Engel and her grade 8 and 9 bakers was also a big hit!
Métis Crossing Field Trip
February 21, our Grade 6 classes experienced a taste of winter survival skills at Métis Crossing for the Cabin Fever program.  Our students traveled along the river on snowshoes, learned about setting up winter camp with different types of shelter using the environment, learned how to set up animal snares and cooked bannock over the fire.  They learned what daily life of a voyageur would have been like, how Métis were important to the fur trade industry and that they invented the York Boat to help voyageurs in bringing furs to market.  It was chilly, but we had lots of fun!  Thank you to Elk Island Public Schools and Métis Crossing for including us in this wonderful pilot project.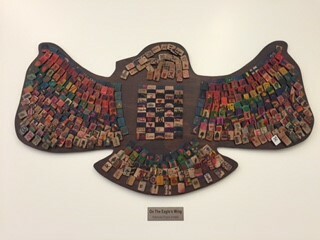 Our Eagle is flying in the Gathering Space.  This beautiful piece of artwork was created by the students of Fultonvale School during the 2017/18 school year as part of our Project of Heart.  It is titled, On The Eagle's Wing.  The inspiration for the eagle shape was chosen by our grade 9 students from the lyrics of the song, He Can Fancy Dance by Cindy Paul.  The video is linked here.  https://youtu.be/hi_8MB1Gn5c