Back to all posts
Posted on
Teachers Office Hours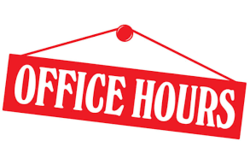 Teachers will be keeping regular "Office Hours".
Elementary Teachers - daily from 10:00 - 11:30 am and 1:00 - 2:30 pm
Jr. High Teachers - 10:00 - 11:30 am and 1:30 - 2:30 pm
These times will be set aside for teachers to plan lessons and be available to provide additional support to students.
Please check your email and accept invites to Google Classroom from your child/children's teacher/s. This will be the platform used to teach while schools are closed.